Protegé Voice
ProtegéVoice is designed exclusively for use with the Protegé telephone system. Improve your communications...let Protegé and ProtegéVoice provide powerful call and voice processing capabilities for your business.
Click on a ProtegéVoice system for more information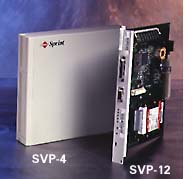 Why Not Let ProtegéVoice Do All The Work?

This easy-to-use voice mail is a real workaholic. It processes calls quickly and simply, because it's made for the Protegé telephone system. With ProtegéVoice on staff, everyone will be more productive and efficient. It's on the job 24 hours a day, seven days a week, to help control costs and improve communications.
Hard-Working Capabilities
ProtegéVoice can increase your productivity and efficiency by allowing you to screen calls and by offering other time-saving features to enhance usage.
Answering Machine Emulation
Auto Scan Message Envelope Information
Call Screening
Direct Mailbox Access

Expert Mode
First Time User Tutorial
Intercom Paging
Multi-Point Mailbox Access
Decrease your operating costs by letting ProtegéVoice manage calls while cutting workload and minimizing overhead.
Dial-by-Name
Trunk-Specific Greetings
UCD Auto Attendant Overflow

Reporting Capabilities
Answer and Route Incoming Calls
Record and Store Messages
ProtegéVoice has smart features that keep you in touch with your customers and enhance your level of service.
Intercom Paging
Caller-Controlled Queue
General Delivery Mailbox
Question and Answer Mailbox

Temporary Greetings
Multi-Level Voice Menus
Live Operator Backup
Voice Menu Greetings
Now, you can be two places at once. These features are so flexible, important information can reach you whether you're at work, at home or on the golf course.
Intercom Paging
Outcalling
Multi-Site Message Forwarding
Send a message to everyone at once - or just a select few. ProtegéVoice delivers information more quickly than by sending handwritten notes or memos. These and other features work hard to improve in-house as well as external communications:
Broadcast Announcements
Audio Text Response
Mailbox Linking
Guest Mailboxes
Group Distribution Lists
Auto Conversation Record
Delivery Options

Flexible Message Options
Multi-Site Message Forwarding
Multi-Extension Mailbox Access
Question and Answer Mailboxes
Check Delivery Options
Outcalling
Whether you choose the SVP-4 or SVP-12 ProtegéVoice unit, you'll enjoy fast, Protegé-compatible voice processing. Both units offer a long list of communication enhancing features:
Automated Attendant
This attendant is always on the job to handle calls, while still offering live operator assistance when needed.
Answer & Route Calls - Gives callers efficient, self-service access directly to the department or person they're seeking.
Call Screening - Asks caller's name so the person being called can choose to accept the call or send it to voicemail.
Dial-by-Name - Callers can find an unknown extension by accessing the company directory.
Holiday Schedule - Allows you to program and record a virtually unlimited number of date-specific greetings at any time.
Multi-Level Voice Menus - Easily connects callers to a person, department, mailbox or another menu by offering simple, voice-prompted options.
Operator Backup - Callers can dial '0' at any time to reach an operator or designated alternate operator.
Rotary Phone Support - Directs callers using rotary phones to a live operator.
Single-Digit Transfers - Lets callers choose voice menu options with the press of just one button.
Time-Sensitive Custom Greetings - Record separate greetings for a nearly limitless number of tenants or departments and specify different prompts to play at specific times of day.
Caller-Controlled Queue - Gives callers options while holding in UCD queues. Callers can choose to continue to hold, to be transferred to a mailbox or to dial another destination and exit the queue without having to hang up and redial.
UCD Overflow Announcements - Delivers announcements to callers that are holding in queue.
Flexible Operator Access - Callers can dial '0' and be directed to a variety of destinations.
Intercom Paging - Minimizes phone tag by paging to alert users of incoming calls before the calls are transferred to extensions or voice mail.
Caller-Specific Greetings - Plays custom greetings and provides unique voice-menu options based on the trunk or direct inward dial number from which the call is received.
System Administration
Your designated System Administrator is sure to appreciate these system management features:
Automatic Message Erase - Erases from all mailboxes messages that have been stored for a predetermined amount of time.
Automatic Message Erase Notice - Alerts individuals that a message will be erased within a certain number of days.
Automatic Routine Maintenance - Runs routine disk cleanup to ensure peak daily performance.
Broadcast Announcements - Sends a message to everyone on your system. It plays when individuals access their mailbox.
Multiple System Operating Modes - Allows you to change greetings and voice menu options, depending on the time of day or week a call is received.
Flexible Numbering Plan - Accommodates Protegé extension-numbering scheme flexibility.
Mailbox Administration - Enables you to add or delete mailboxes, define mailbox type, reset passwords, record greetings, reset message-waiting indication, perform system shutdown, define class of service and establish names of mailbox users for the company directory.
Multiple Class of Service - Allows administrators to define mailbox characteristics by permitting access only to specified features.
Mailbox Linking - Messages left in one mailbox can be automatically copied and left in others.
Remote Maintenance - Allows for administration of the voice mail system from a remote location.
System and Personal Mailbox Reports - Help the System Administrator analyze and monitor usage for peak efficiency.
System Date & Time - Can be adjusted from any location via tone phone.
System Group Distribution Lists - Allows users to send the same message to multiple mailboxes at one time.
Voice Menu Greetings - Allows you to record flexible greetings for Automated Attendant and call routing applications.
Voice Menu Override Greeting - Records a temporary Voice Menu Greeting, such as a snow day announcement or an emergency closing.
Record Company Name - Allows you to identify the company to callers and outcall recipients.
Mailbox Management
Get important messages regardless of your location and collect or distribute information in a variety of ways. ProtegéVoice will give users more control and flexibility over their communication options.
After-Hours Mailbox - A destination for messages left after-hours that are not directed to a specific mailbox.
Audio Text Response - Gives callers prerecorded information such as hours of operation, product information or directions, etc.
Direct Mailbox Access - Programming that allows users to access their mailbox with the push of a single button on their Protegé keyset.
First Time User Tutorial - Prompts new users through first-time mailbox setup.
General Delivery Mailbox - Allows callers to leave a general message for the company rather than for a specific person.
Guest Mailboxes - Allows you to more easily keep in contact with people outside of your company.
Multi-Point Mailbox Access - Allows users to access messages from various on- or off-premise locations.
Multi-Extension Mailbox - Provides direct mailbox access from multiple Protegé extensions.
Personal Greeting - Allows you to customize greetings for each mailbox.
Personal Group Distribution Lists - Allows you to automatically deliver the same message to a personally defined list of mailbox owners.
Personal Password Protection - Protects access to your mailbox via a user-defined password.
Question & Answer Mailboxes - Will question and receive replies from callers to assist you in gathering helpful information.
Recorded User Name - Records name for use with various system features such as Dial-by-Name.
Secretary Mailbox Access - Allows someone you designate to access only the descriptive "envelope information" of your messages while protecting their contents for your personal review.
System Administrator Mailboxes - Allows access to special features such as resetting passwords, managing group lists, adding and deleting mailboxes, etc.
Temporary Greeting - Replaces Personal Greeting when an alternative mailbox greeting is desired.
Message Processing
The maximum-level integration between the Protegé system and ProtegéVoice delivers quick and flexible message processing.
Answering Machine Emulation - Allows you to listen to messages as they're recorded and choose to interrupt and connect with the caller at any time.
Auto Conversation Record - Gives you the option to record a conversation into your personal mailbox.
Expert Mode - Allows users to quickly manage the review of their messages.
Auto Scan Message Envelope Information - Search for messages without listening to all the details by scanning descriptive "envelope" information.
Call Transfer Options - Users can select whether their incoming calls are transferred to their extension or directly to voice mail.
Check Delivery Options - Request Proof of Delivery, Receipt Confirmation or Undelivered Message Notification.
Delivery Options - Choose Normal, Priority, Confidential, Cancel or Specified Delivery Time for any message.
Flexible Message Retrieval Order - Can deliver messages in a first-in-first-out or last-in-first-out order.
Mass Auto Delete - Deletes all messages in a mailbox at once.
Message Options - Multiple options for managing messages, including: Copy With Comments, Copy Without Comments, Envelope Information, Erase, Retrieve, Save and Send.
Message Playback Control - Select these options during the playback of any message: Skip, Fast Forward, Rewind, Replay, Pause and Cancel.
Message Waiting Lamp Indication - Can alert you to messages awaiting review.
Message Reminder - For extensions without message-waiting lamps - users can receive calls periodically to inform them of waiting messages.
Multiple Destination Messaging - Directs new messages or personal replies to multiple mailboxes.
Multi-Site Message Forwarding - Send and receive messages from your unit to colleagues at other locations that have a ProtegéVoice unit.
Outcalling - Notifies you of waiting messages by calling a user defined phone number on- or off-premises, e.g., home, pager, mobile phone, etc.
Quick Message - Allows callers to bypass the company greeting and directly access a mailbox to record their message.