The Protegé CTX System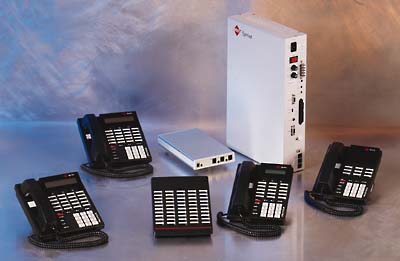 Big Power, Small Price
Computer telephony integration (CTI) can change the way your business communicates... even if your phone system needs are small. Because now there's Protegé CTX. Protegé CTX gives you all the powerful CTI features you're looking for at a small-system price. As your business expands, the CTX grows up and out without a lot of extra investment.
The basic Protegé CTX system handles 6 lines from the telephone company's central office, with up to 16 digital keysets, and CTX's optional 2x8 expansion module jumps you up to 8 lines and 24 stations. Later on, you'll be positioned to step into the even more powerful MTX and LTX systems, using your original Protegé digital keysets - a significant benefit to your bottom line.
---
Work Smarter With Protegé CTX
This powerful phone system gives you bottom-line productivity, with hard-working features you won't find in other small systems:
Caller ID Integration

One-Button Transfer

Transfer to Hold

Answering Machine Emulation

Conversation Record

Interactive Display with Soft Keys

Transparent LCR

Class of Service Override

Off-Hook Voice Announce with Executive Keysets

Reverse Off-Hook Voice Announce with Executive Keysets
Keep In Touch With Your Customers
With Uniform Call Distribution as a standard feature, Protegé CTX helps you manage your calls with great customer service capabilities:
Call Queuing

Multiple Overflow Destinations

Overflow Announcements

Agent Help

Agent Wrap-Up

Supervisor Monitoring

Route Override

Reroute Destination
Work Smarter And Faster
Protegé CTX gives you built-in features to maximize productivity throughout your organization:
16 Hunt Groups, 24 Members Each (48 Members in Hunt Group 16)

6 Flexible Call Forwarding Options

8 Simultaneous, 4 Party Conferencing

500 System Speed Dial Bins

Flexible Ringing Assignments

8 Call Pickup Groups

8 Paging Groups

External Paging

Meet-Me Page

8 Day/Night Extension Classes of Service

System Speed Dial Toll Restriction Override

Built-In Battery Backup Capability

Power Failure Transfer

Direct Inward System Access

Hot Dial Pad

Night Service

Analog Adapter for Analog Applications

Unsupervised Trunk-to-Trunk Conferencing

4 Redial Options, Including Automatic Busy Redial

Hot Line Capability

Non-Blocking Intercom
Run Your Business More Efficiently
Protegé CTX uses computer telephony integration (CTI) to help your computer and phone system work together. Plus, all these business-building tools are built in:
ProtegéDial with Database Lookup and Screen Pops

Personal Information Manager Support

Caller ID Information Sharing with Credit/Account Systems

Voice Mail Integration

Least Cost Routing

Directory Dialing

Traveling Class of Service

Station Message Detail Recording

4-15 Digit Forced Account Codes

Enhanced Toll Restriction

Data Auto Answer
So give your business a competitive edge, with Protegé CTX, the small phone system with big-business power
To learn even more what a Protegé telephone system can do for your business...
E-Mail Us: sales@ivector.com
Call us today: (727)845-3676